Hi everyone! This week we've got three good stories in store for you, including coverage of the recent Republican debate. Just a reminder that if you are getting this as an email click the link. Also don's forget to comment and to follow us on Instagram. We will not post over break. Happy Holidays to you all!
-Your editors
Well, you're in luck... you might get to be the main character in "Gravity," "Interstellar," or especially "The Martian." NASA might just be your next employer (sorry, middle schoolers, you need to be qualified... see below) NASA just announced that they are now accepting applications for an astronaut position, and specifically to go on a vacation to Mars. Sounds fun, right?
Is this important?
It really is. The last time NASA started accepting applications was four years ago. So they don't give out jobs 24/7. Last time NASA picked people, Eight people were chosen, four men and four women. Let's put this to scale.
6,300 people applied.
It is not easy to get this kind of job, and NASA has an image of what they want.
What do you need?
Not much, surprisingly. Applicants need to:
have a bachelor's degree in engineering, biological science, physical science, or math

1000 hrs of pilot-in-command time in jet, or three years of relevant experience.

You need qualities such as leadership, good teamwork, and good decision making.
Why does this matter? I'm in middle school! This is literally an irrelevant advertisement!
No and no. This is actually a pretty big deal. These are future missions to
Mars
we're talking about. We're not trying to convince you to fill out an application; we're trying to inform you that the next class of NASA astronauts,
The NASA astronaut class of 2017,
is being formed. These astronauts are our future, what they learn could be pretty important. What they find on Mars could be pretty important.
On December 15th, the Republican candidates met for the last time this year to "debate."
Terrorism, National Security, and Donald Trump were of the main topics.
This was after Paris and San Bernardino, right?
Yes it was. And those came up quite a bit. Remember how representatives met recently to discuss a solution to Global Warming? Well,
Ohio Governor John Kasich
thought that this meeting was a waste of time. He was wondering why people were talking about climate change when they could have been fighting ISIS. Kasich wasn't the only one complaining about ISIS, though...
Marco Rubio
obviously doesn't like supporters of ISIS, as he claimed that he did not think they should have the right to remain silent, or their Miranda Rights.
Donald Trump
's ideas of protection from groups like ISIS was to literally to close down the internet in areas where "we are at war with somebody. Trump claimed that ISIS was getting into the minds of youth over the internet. "I do not want [ISIS] to use our internet to take our young impressionable youth," he said at the Debate.
Earlier you said something about NSA, correct?
The USA Freedom Act was passed last May. This took away the NSA's right to own phone metadata. So the National Security Agency's phone records were basically thrown out.
Marco Rubio
did not support this. He claimed that this phone data would have been useful in attacks such as San Bernardino. On the other hand,
Ted Cruz
thinks that after the act, the NSA actually ends up having
more
data than they had before. So why did these two get in a fight? Well, Cruz supported the act before it was passed, and so Rubio spit out accusations. Then Cruz played the "but now they have more data" card. Things got pretty tense.
Things got pretty tense...
What was Fiorina's NSA story? Carly Fiorina
really likes the NSA. She explained an incident she had with them after 9/11 on Tuesday Night. It was simple: the NSA asked Fiorina to stop a truckload of equipment and send it back to NSA headquarters. And she did it. Fiorina claimed that the NSA would help the government, if they just asked for it. Some people think that the story is different.
Like these people
Purple Unicorns and our favorite neurosurgeon.
At the debate, Ted Cruz started talking about purple unicorns. Really. He was talking about the rebels in the Mideast. These are the rebels that the US wants to arm. And Cruz called them purple unicorns, meaning, there are no moderate rebels in the Mideast. On the other hand, our favorite neurosurgeon Ben Carson didn't talk a ton at the debate. But at one point he was asked an awkward question. Somebody asked him if if he was president he would be willing to kill many children and innocent citizens in a time of war. After making a children and tumor analogy, Carson said yes, he would be willing.
Donald Trump?
He and
Jeb bush
aren't really BFFs. On Tuesday, Trump called Bush's campaign a massive fail. Bush retaliated, saying that Trump isn't going to be able to "insult his way into the white house." burn.
Rio 2016 Might Have a Problem
You might know that Rio is hosting the 2016 Summer Olympics. Are they completely ready? Absolutely Not.
Power
Aggreko, which was one of Rio's top power suppliers, just kind of left. That's right, power and energy is a vital part of the Olympics. Just think about all of the power-related things the Olympics needs:
International Broadcasting! And FWI, this is South America, so that means US!

The Opening and Closing Ceremonies.

Back up electricity for Olympic venues.
Polluted Water
You might already know this, but the water in Rio is not great right now. In fact, it is extremely polluted! Do we want the Olympic athletes competing in polluted water? I don't think so. For example, sailing events are being held in Guanabara Bay, which is, well...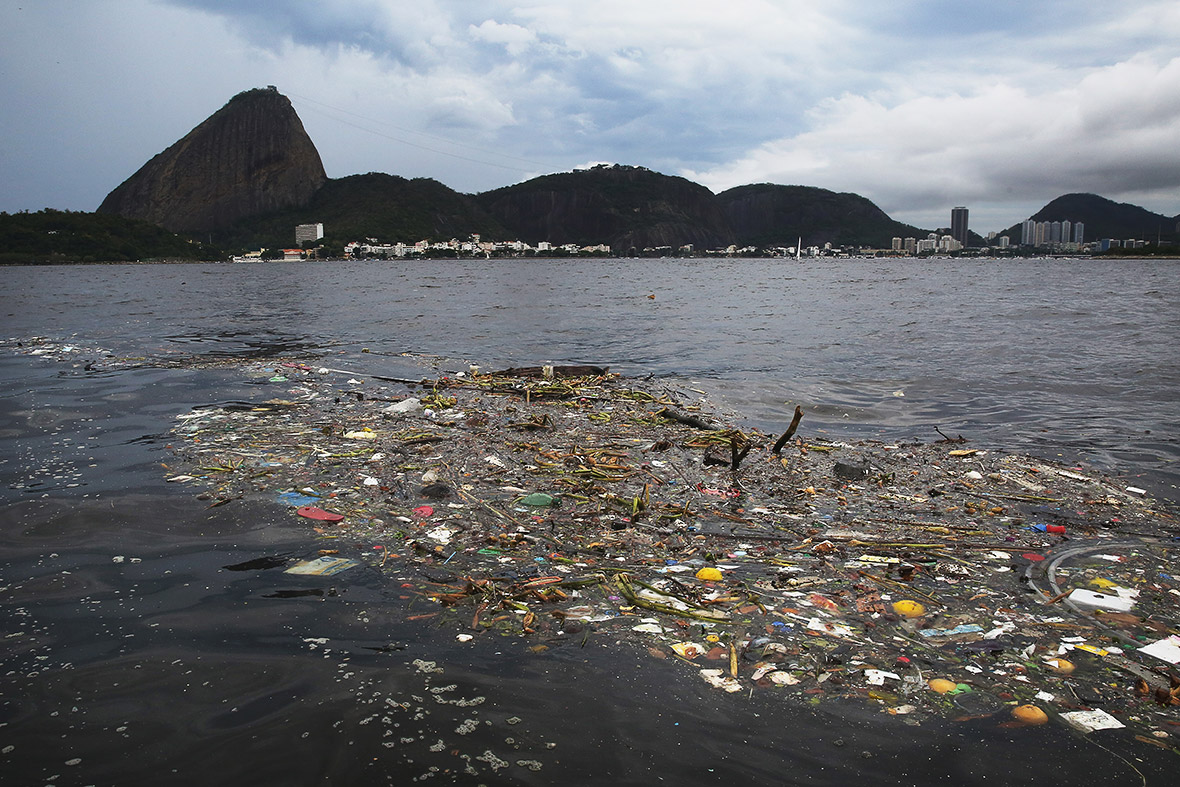 Guanabara Bay
Recession
Rio's economy isn't great, either. Employment is lower than ever, many cannot find jobs. As you can see, Rio de Janeiro doesn't seem to be in awesome shape to host the olympics this Summer.